9042
---
Designed for coding in the dairy industry.
The 9042 is designed specifically to meet the needs of the dairy industry with all of the benefits of the 9040. Are you … > Looking for more efficiency in your manufacturing processes? > Driving your production lines faster and faster? > Searching for more robust equipment for demanding environments? > Wishing for easier and cleaner consumables handling?
Your benefiYour benefits
Unique head cleaning system to ensure trouble-free start ups.
Standard IP54 stainless steel cabinet without retention area allows for easy cleanup.
Available IP65 version suitable for humid environments.
Removable stainless steel printhead cover for applications requiring printhead motion.
Reinforced umbilicals provide longer life span and better printhead integration.
New design of 0.8-liter cartridge: sealed and foolproof.
Fast, safe changeovers of consumables in less than 30 seconds, with no spillage or need to stop printing.
Ergonomic design with user-friendly interface featuring shortcuts.
Quick installation of the cabinet on the floor for easy operation.
Choice of single or twin heads and umbilicals of 3, 5 or 8 meters, allows for integration onto most production lines.
Operations
• Message library (up to 2000 messages)
• User interface available in 29 languages
• Large WYSIWYG backlit display
• Creation of logos directly onto the user interface
• Compact Flash and SD cards capable
• USB port
• Jet Speed Control for optimum print quality
• Automatic font selection; print speed and printhead to substrate distance dependent
• Range of inks: fast-dry inks and inks for applications requiring printhead motion
• Sealed 0.8-liter cartridges with foolproofing system
• Quick connection of the user interface panel for accessories (photocell, encoder, alarm)
• RS-232/422 connectivity, parallel interface and I/O slot for remote access
• Ethernet connectivity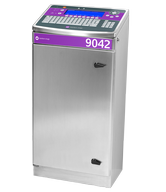 Other
Characteristics
Other characteristics
• Weight: 40 kg
• 3-meter flexible umbilical
• Stainless steel cabinet
• Dust/humidity protection rating: IP54
• No plant air required
• Operating temperature range: 0° to 50° C
• Humidity: 10% to 90% non-condensing
• Electrical power supply: 100-120 V or 200-240 V with automatic switching; frequency 50/60 Hz; power 200 VA Options
• IP65 (requires plant air)
• Printhead pressurization kit
• Reinforced 5 or 8-meter umbilicals for applications requiring printhead motion
• 90° bent umbilical
• Printhead with umbilical lateral output PC software
• Compatible with CoLOS Create Professional and CoLOS Enterprise
• Logo creation with CoLOS Graphics Accessories
• Printhead stand (aluminum or stainless steel)
• Various printhead brackets
• Stainless steel printhead cover
• Photocell
• Encoder
• Alarm beacon (24 V)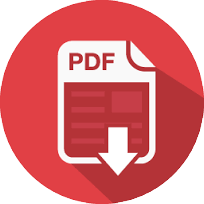 Download Cataluge9042 
---
Substrates
Plastics, glass, metal, cardboard and directly onto food.

---
Markets
Food, beverage, cosmetics, toiletries, electrical equipment, electronics, cables, tubes and profiles.

---