Visit Our Facebook page at
LOGO!
A wide range of modules allows individual expansion of LOGO! to 24 digital inputs,16 digital outputs, 8 analog inputs and 2 analog outputs!
The use of several LOGO! 0BA7 units allows to expand the overall system to a max. of 88 digital inputs, 80 digital outputs, 40 analog inputs and 18 analog outputs.
Communication modules are also available for AS-Interface and KNX (KONEX the former EIB network for building automation). It is also possible to use the analog output module to solve simple closed-loop control tasks. Heating and cooling systems can be designed with the AM2 RTD module (forPT100/PT1000 temperature sensors) using special functions for PI control, ramp response and analog multiplexer.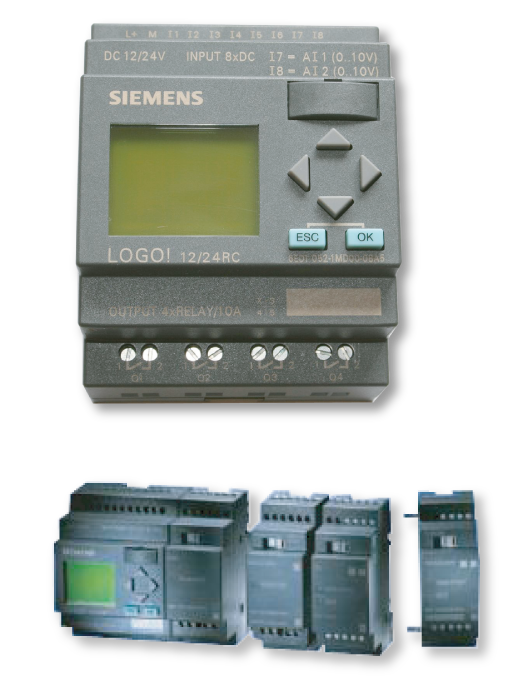 SIEMENS LOGO ! Logic Module
- The compact, user friendly and low cost solution for simple control tasks.
- No wiring is necessary since functions are linked.
- Operates in a similar manner as a PLC.
- With integrated operator control and display unit for input of alarm message texts/variables direct at the device.
- Easy Operation by linking of functions at the click of the mouse at the PC or by pressing a key on the device.
- Minimum expenditure of time:
• Only the inputs and outputs need to be wired.
• Simultaneous wiring diagram generation and control cabinet installation.
- Reduced Costs:
*Many switchgear technology functions are integrated.
- High Flexibility:
*Functions are simply modified at the push of a button.
*Variants for different operating voltages.
*Modular design, can be expanded at any time.
Click here to download manual
---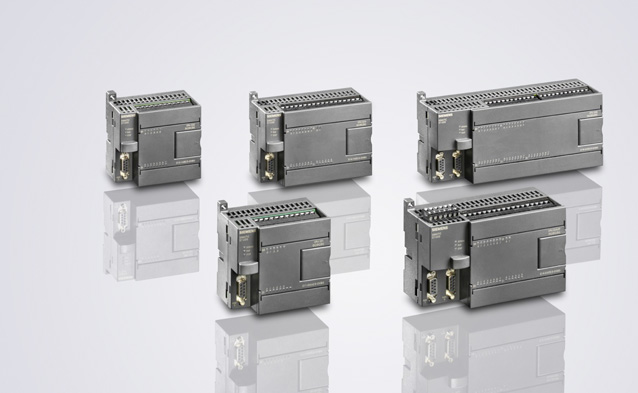 SIMATIC S7 -200: Micro PLC for basic automation tasks
Compact and powerful: The SIMATIC S7-200 Micro PLC is fast, communication-capable and highly productive in real-time mode. The consistently modular design facilitates the creation of tailor-made, expandable solutions in the low-end performance range. The S7-200 Micro PLC from Siemens can be used as either a stand-alone Micro PLC solution or in conjunction with other controllers.
Digital, analog, specific or communicative — the extensive basic functionality offered by the five
different CPUs can be expanded with a wide range
of individual modules. Programming is based on the easy-to-use engineering software STEP 7 Micro/WIN.
As a result, the SIMATIC S7-200 Micro PLC is a reliable, fast and flexible controller in the field of micro automation.
Click here to download manual
---
---
SIEMENS S7-300:
-A graded CPU range with a wide performance range is available for configuring the controller.
The product range comprises 7 standard CPUs,
7 compact CPUs, 5 fail-safe CPUs and 3 technology CPUs.
The CPUs are available from a width of only 40 mm

SIMATIC S7-300 is within Totally Integrated Automation the most sold Controller.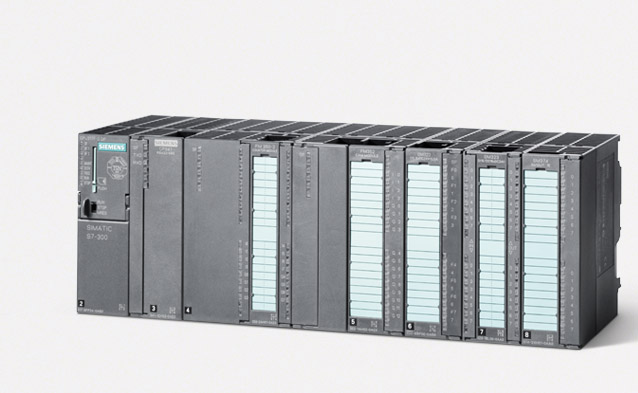 Range of application
In the first instance SIMATIC S7-300 is used for innovative system solutions in manufacturing technology, especially for automobile industry, mechanical engineering in general and especially for special machine building and serial production of machines (OEM), at plastics processing, packaging industry, food and beverage industry and process engineering
As an all-purpose automation system is S7-300 the ideal solution for applications, which need a flexible concept for central as well as local configuration
Particularly in the finishing technique the S7-300 is used in the following industries:
Automobile industry
General mechanical engineering
Building of special machines
Series mechanical engineering, OEM
Plastics processing
Packaging industry
Food and Beverage industry
Process engineering
Fast counting/fairs with direct access on the hardware counters
Simply positioning with direct control the MICROMASTER frequency static frequency changers
PID-Regulation with integrated functional module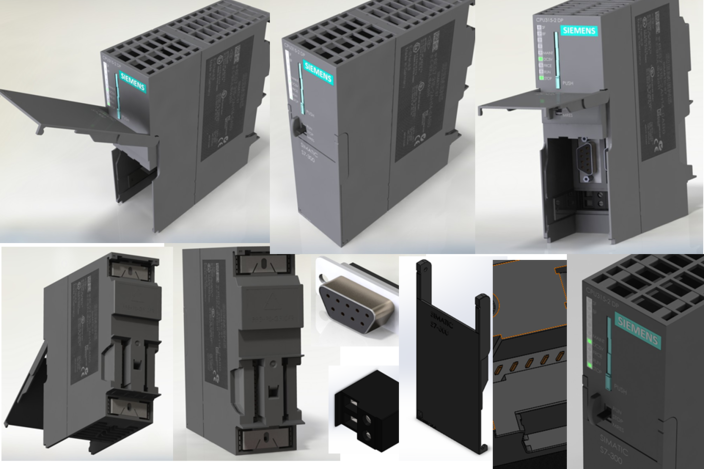 Benefits
Thanks to their high processing speed, the CPUs enable short machine cycle times.
The S7-300′s range of CPUs provides the right solution for every application, and customers only pay for the performance actually required for a specific task
The S7-300 can be set up in a modular configuration without the need for slot rules for I/O modules
There is a wide range of modules available both for the centralized and the distributed configuration with ET 200M.
Integral PROFINET interfaces enable simple networking of the controllers, and simple data exchange with the operations management level
The narrow module width results in a compact controller design or a small control cabinet.
The ability to integrate powerful CPUs with Industrial Ethernet/PROFINET interface, integrated technological functions, or fail-safe designs make additional investments unnecessary.
Click here to download manual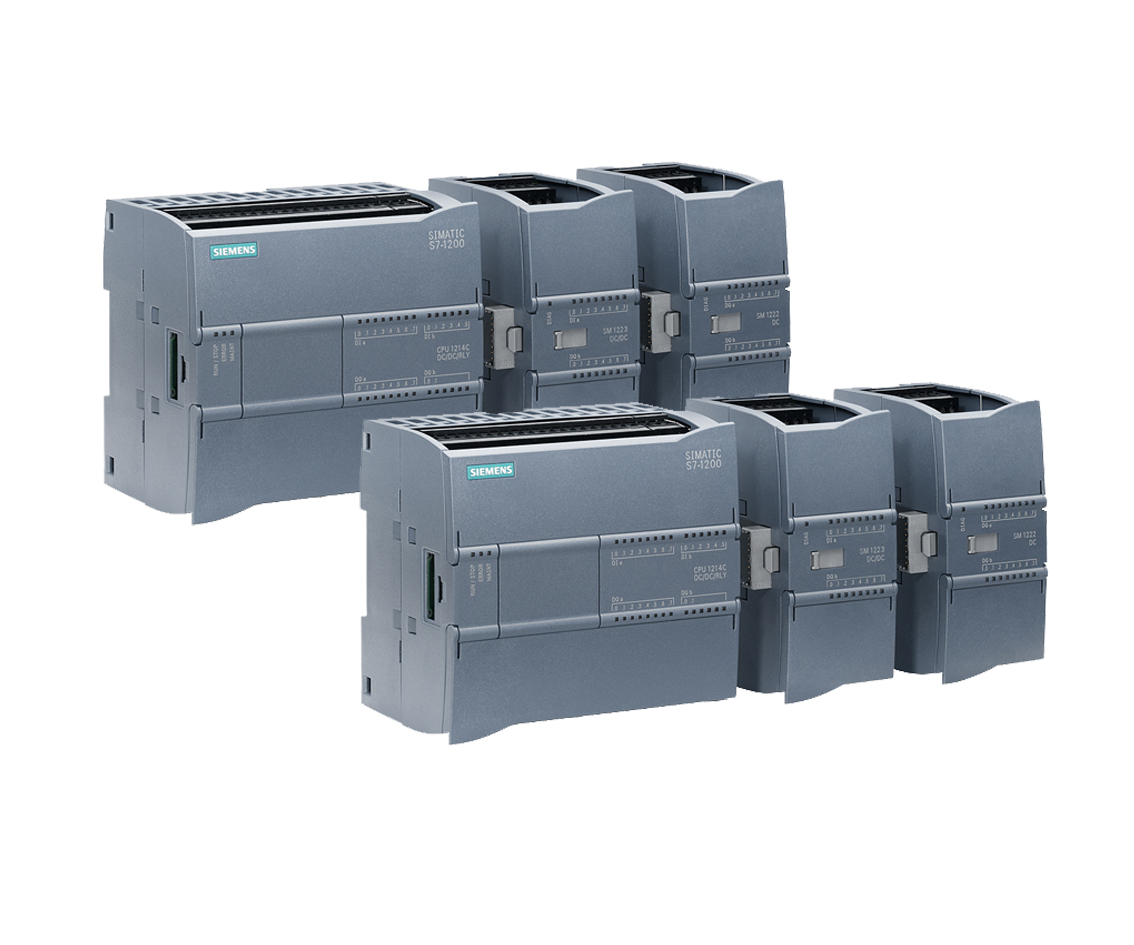 SIEMENS S7 1200:
Maximum engineering efficiency with minimal effort. The perfect match: SIMATIC S7-1200, HMI Basic Panels and TIA Portal.
The controller SIMATIC S7-1200 is extremely flexible, scalable and seamlessly integrated into the Totally Integrated Automation (TIA) architecture. As a result, it works perfectly together with HMI, I/O, drives and software.
TIA Portal Basic has task-oriented, intelligent and intuitive editors that enable it to serve as one common engineering framework for the SIMATIC S7-1200 controller and SIMATIC HMI Basic Panel; which will help you to achieve many engineering efficiencies in your daily work giving you a competitive advantage.
Compact automation solutions also require scalability and flexibility, and this is achieved for your application through the integrated PROFINET interface on the controller S7-1200 for programming, HMI connections, distributed I/O's and distributed 
Click here to download manual
SIEMENS HMI
The perfect HMI panel for every requirement:
Not every HMI is the same. The Siemens difference: Every SIMATIC panel offers an operator interfaces system with the highest level of transparency. Equipped with numerous functions and available in many different performance classess, all SIMATIC operator interfaces offer efficient, machine-oriented operation and monitoring for your systems.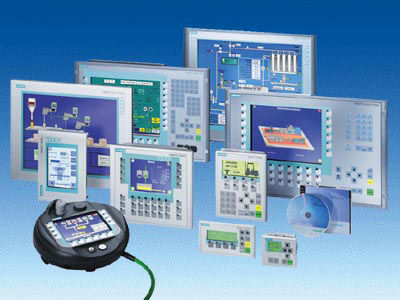 Human Machine Interface: a vital factor in the world of automation
As your single-source provider, Siemens' human machine interface technology SIMATIC HMI is engineered to meet the increasingly complex processes of your machines and systems. SIMATIC HMI is optimized to meet your specific human machine interface needs using open and standardized interfaces in hardware and software, which allow efficient integration into your automation systems.
Click here to download manual
Visit Our Facebook page at
---